I'm sorry for not perfect english. In time I'll do a good quality translate. If you could not get anything please feel free to contact me in comments. I will answer you as soon as possible.
Before starting the work will not interfere remove Common Rail injectors, remove all unnecessary with the cylinder head (described Article replacement camshaft of CRDI engine), you can remove lifters, to avoid falling out, but it's not necessary.
We turn to the case. First you need to drain the coolant. For that the plug at the bottom of the radiator, substitute the liquid container (in my case, six-liter canister is enough), and only then take off the top cover of the radiator. Since after removing the radiator cap in the air can flow freely to and from the lower opening gush coolant flow (pictured plug is not in the best condition, a better substitute, which I did).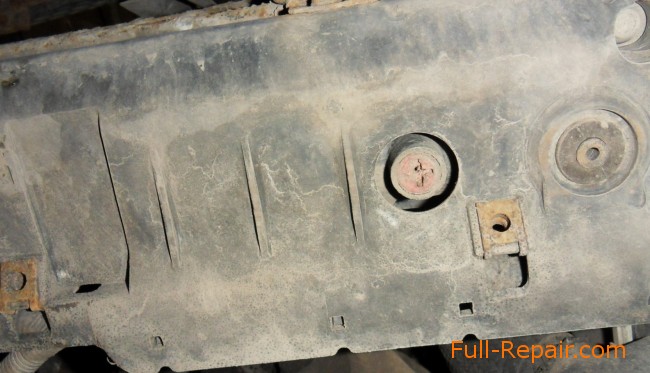 Next, untwist the exhaust pipe from the exhaust manifold (this would require a pit), it keeps the two nuts. They are usually rusty and tight loosened. If you can, then it is better to unscrew hot. There will be nothing more than-their heat, sprinkle with liquid wrench or some chemistry. And then we can break the pin. I have everything turned out well. I first spun down to the "hot" engine. Still, it was very difficult to them to "undermine". In the photos below you can see the exhaust pipe, it is unscrewed and removed from the studs. Just removed the hose returning oil to the crankcase with oil separator crankcase gases.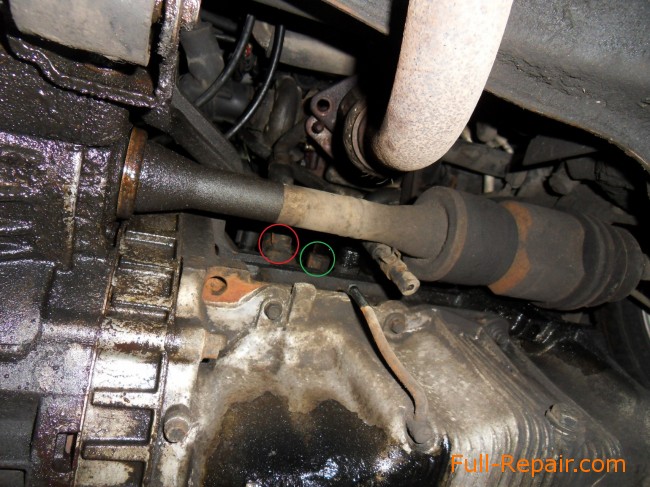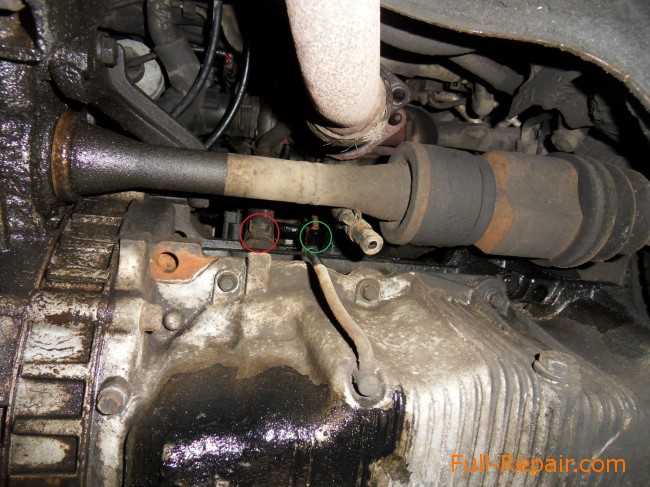 While in the pit, you can immediately undo the oil feed pipe to the turbine (her mount circled in green) with a key to the "17" and remove the hose that returns the oil from the turbine (his mount circled in red). This hose is 10-12 centimeters in length to remove it with pliers to squeeze the clips and move them to the middle of the hose. Next, rotate the hose, you need to take it off, thus deeper spitted on his mount, coming from the turbine.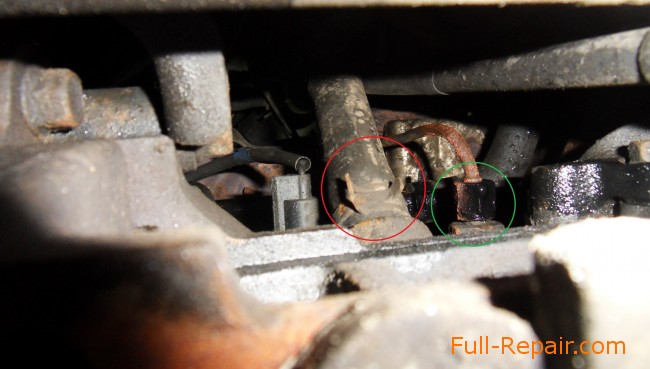 The hose was removed, unscrewed the tube:
Below all you need to remove the cylinder head disconnected. Moving on. We have a partially disassembled engine-a cam shot (to see better bring a photo engine in pure form, in fact it's all black inside).