For the turbine to half disassemble the engine: remove the nozzle, valve cover, cam and lifters (the latter is not required). And after all of the above to remove the cylinder head together with the exhaust manifold and the turbocharger.
For the convenience of not interfere unscrew the exhaust manifold from the cylinder head.
Next Remove the 4 screws that hold adjacent to the turbine exhaust pipe and remove it. Unscrew the three without problems, and one had to mess around for hours. Did not want to grind off both side of nearly thread-unscrew. As a replacement, bought the store in the car similar to the nuts from Lada. Just do not steel, and copper or brass. And a millimeter thicker.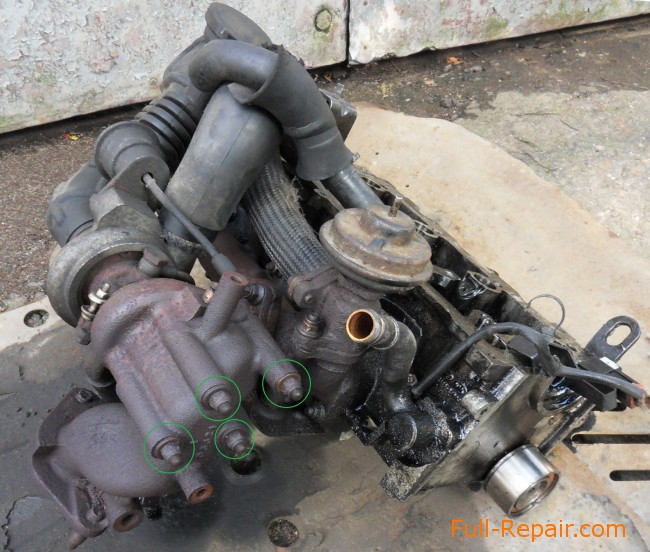 It remains to unscrew the three screws that hold the turbine on the exhaust manifold (two locations circled in green, the third nut is not visible.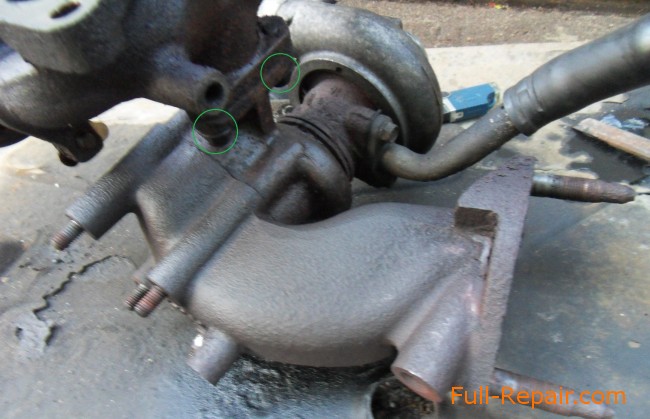 Photos disconnected turbine is not present, since the past three unscrew the nut failed. Head there will not crawl, but do not grab the key to the correct torque. But managed to partially disassemble and clean the turbine. Perhaps just have to cut and change the studs. But first, you can try to whittle down the sides of the nut. Then perhaps they unscrew. I did not have to unscrew and separate from the turbocharger exhaust manifold, so it was not necessary to use the imagination to this case.
Cars, which uses the same turbine (Part :28231-27500)
HYUNDAI ACCENT [AW]
HYUNDAI ACCENT [BA]
HYUNDAI ACCENT [BG]
HYUNDAI ACCENT [LC]
HYUNDAI GETZ [BJ]
HYUNDAI MATRIX [BE]
Cars, which used the same engine (1.5 CRDI D3EA, 3 cylinder) and the same cylinder head:
HYUNDAI Accent
HYUNDAI Getz
HYUNDAI Matrix
Cars, which used the same engine (2.0 CRDI D4EA, 4 cylinders)
HYUNDAI SANTA FE
HYUNDAI TRAJET
HYUNDAI TUCSON
KIA CERATO
KIA SPORTAGE