I'm sorry for not perfect english. In time I'll do a good quality translate. If you could not get anything please feel free to contact me in comments. I will answer you as soon as possible.
Established in the trunk lights Getz - a small bowl on the left with a lamp 5W. The light is not very good, you can put a light bulb and 10W, but also of much better not be. Dark night with such illumination can distinguish large objects, and small - not really. All this has led to different ideas about creating more quality illumination.
From what make the backlight?
Thoughts were many: fluorescent lamps, incandescent bulbs, LEDs ... But they still need somewhere to attach. Therefore, as the smallest light sources were selected LEDs. A attachment points - on the right and left pockets. I decided to make two on each side.
Prepare LED assembly
Wiring diagram is the simplest - two diodes and a resistor, all connected in series, as I did for Backlight glove , but there were three of the diode.
Carved out of fiberglass a small fee for the two diodes, saws in the conducting layer on one side separating groove. At fixing diodes I wrapped copper wire for improved heat transfer, perhaps it is not necessary and without it would work perfectly well, I do not know, did not do the calculations, but it has built a small heatsink. It remains to put diodes thermal paste and soldered to the board. And to the board for its fastening cemented copper "whiskers."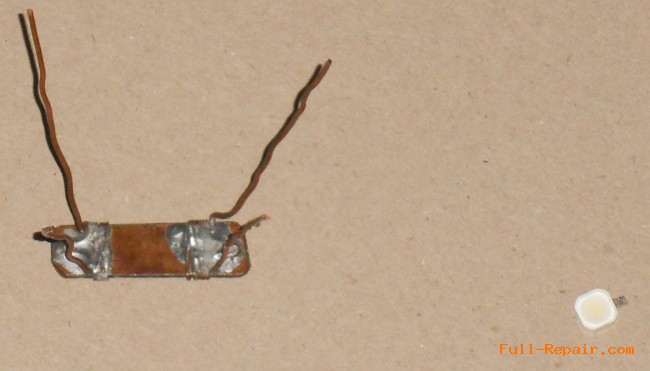 In the trunk of the pocket in the corner drilled 5 holes, four of them are small to thread the "whiskers", one more - for the wires (pictured far too long):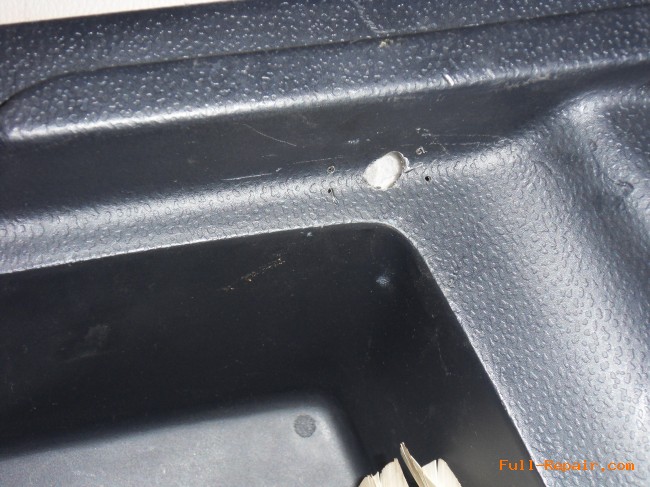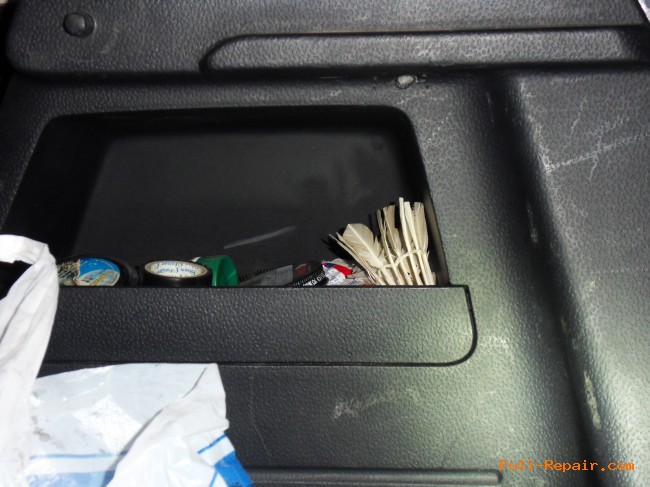 Dismantling skin
Have to remove the trim to attach themselves diodes and pull the wires underneath. To remove only had to unscrew the three screws that hold the back of the central panel of the trunk, which is at the door. After that, everything is removed by pulling back, for on bugs fixed.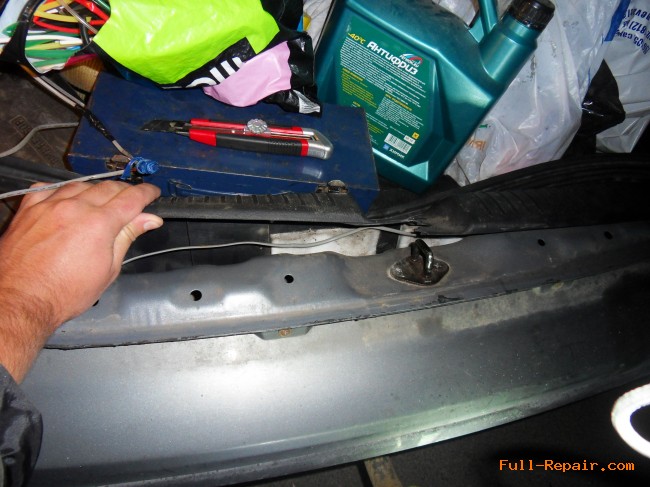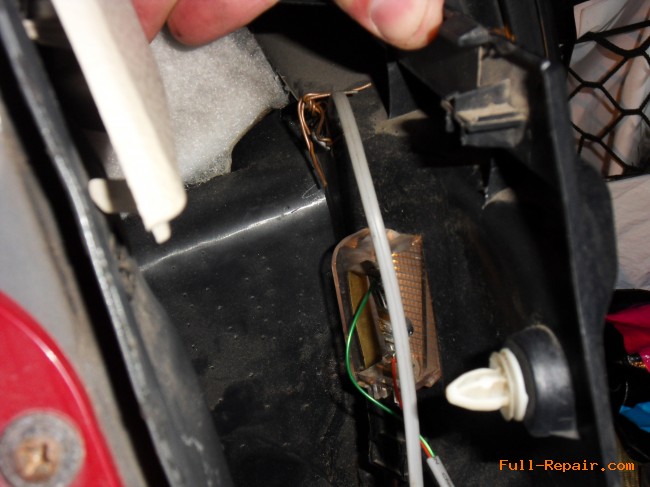 Installing lighting
Now pass through his mustache and wires into the holes and fix the board with LEDs copper coiling "whiskers" on the inside, and the wires are conducting connection to the place of regular ceiling, and from there will feed our diodes. Subscribe and check if everything is working correctly.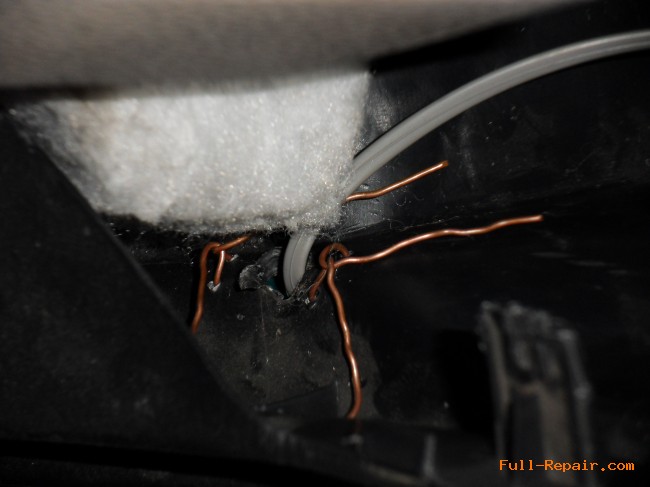 Carefully collect all the remains. Lights ready. Types of LEDs on the right and on the left: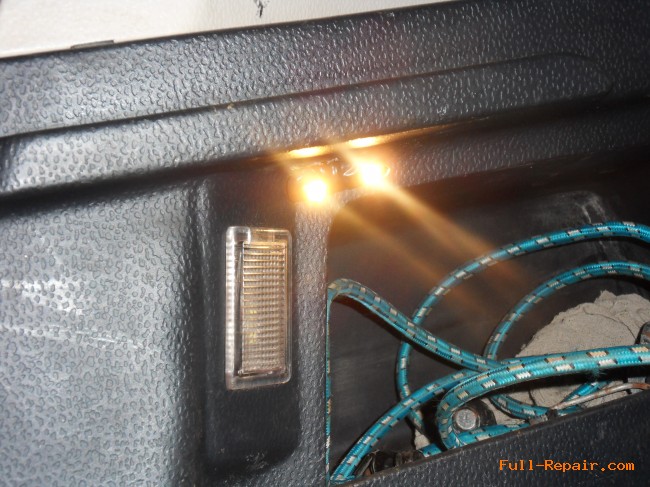 Here is the trunk of the night: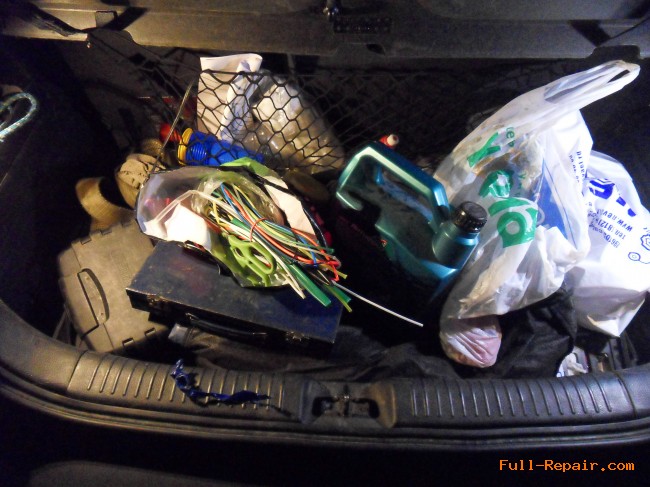 All photos for the article