Photo 2: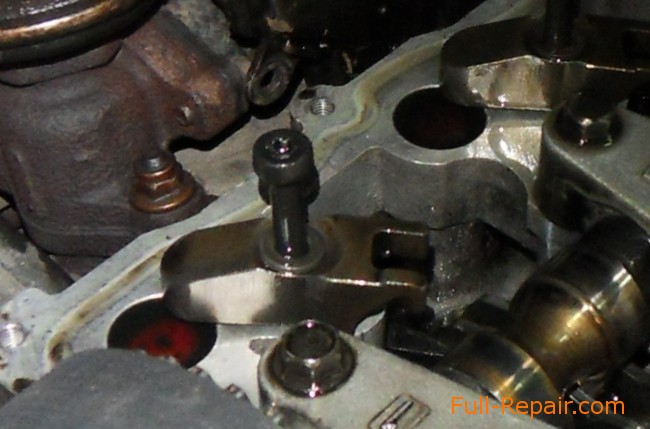 If you damage the bolts, they should be replaced, because when installing the injectors is likely to damage them further, and after that it will be difficult to unscrew a bolt again. And do not think that you are putting in the final once and for all. No, maybe it will be so, but if you have to re-shoot, you can create yourself problems in the form of damaged bolts.
Nozzles available, they can be removed. In science, you need a special puller, as in the video, but I always take out of their hands and nothing bad happened.
If the nozzle is seated firmly and can not be, it can be a key or some other tool to rotate while pulling up arm. Gently, it might not be a very quick process, but it still will nozzle. Once it is. I think because of the fact that not much has tightened bolt installation and the space between the nozzle and the head of the block filled with soot and other combustion products.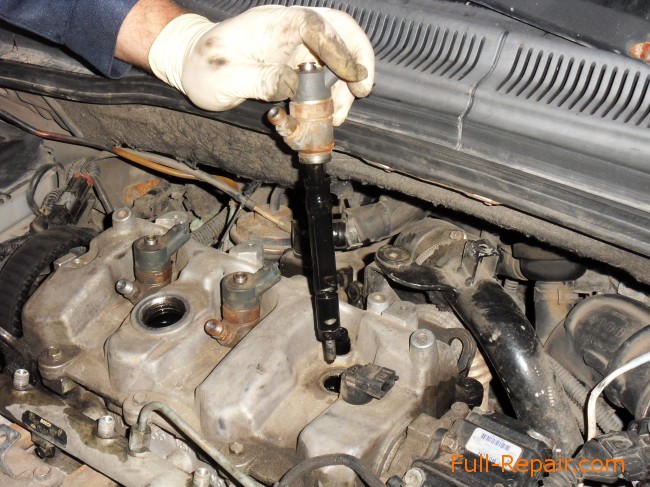 In the photo below to see the holes in the clips nozzles.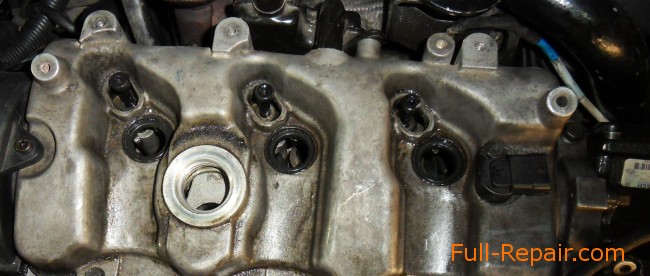 The photographs noticeable difference in engine cleanliness, because they were made at different times.
Further disassembly of the engine is described in articles replacement camshaft engine CRDI and replacement of hydraulic engine CRDI.
Cars, which used the same injector (33800-279002X, 33800-279002Y, 33800-279002Z):
HYUNDAI ACCENT [BA]
HYUNDAI GETZ [BJ]
HYUNDAI MATRIX [BE]
HYUNDAI SANTA FE [BB]
HYUNDAI TRAJET [EC]
HYUNDAI TUCSON [BH]
KIA CERATO [CD]
KIA SPORTAGE [FQ]
Cars, which used the same engine (1.5 CRDI D3EA, 3 cylinder):
HYUNDAI Accent
HYUNDAI Getz
HYUNDAI Matrix
Cars, which used the same engine (2.0 CRDI D4EA, 4 cylinders)
HYUNDAI SANTA FE
HYUNDAI TRAJET
HYUNDAI TUCSON
KIA CERATO
KIA SPORTAGE