The ball I cleaned rolling it between two pieces of paper moistened in carburetor cleaner as far as it was impossible to take this one in hand and to clean it — the ball is very small. The ball housing (and this one is output orifice) I blow out from the cleaner balloon. The same I did with the input orifice (these are the same holes with diameter of parts of millimeter and through these holes the control chamber is filled in and pour out).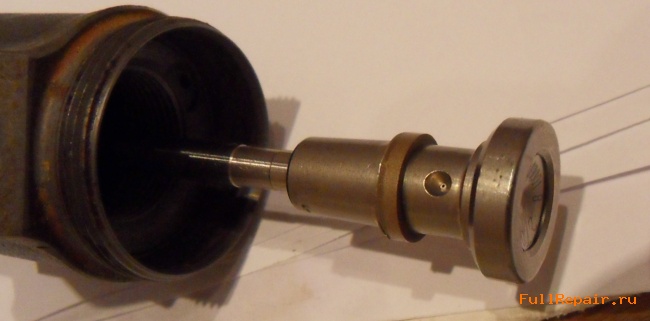 And all other details have to be cleaned in order to remove deposits.
After cleaning let's start to assembly operation and there is continuation of all the details of injector:




Injector's Assembly
If after the assembly injectors are not being put in engine and start running then you have to lubricate all details. It is better to do this diesel fuel – this is native liquid for its. But for example the liquid key is possible as well. In extreme case sunflower oil will suffice. The main reason for this is that dry details inside injector will not be touched with the corrosion.
First of all we put pivot and control chamber. It is necessary to put its inside package but peculiarity is that the hole on the valve side must be opposite of input hole on the inside package of injector. Otherwise the fuel will not to fill in chamber of back-valve and not to pour out when the valve opening. Under these conditions the injector will not start running.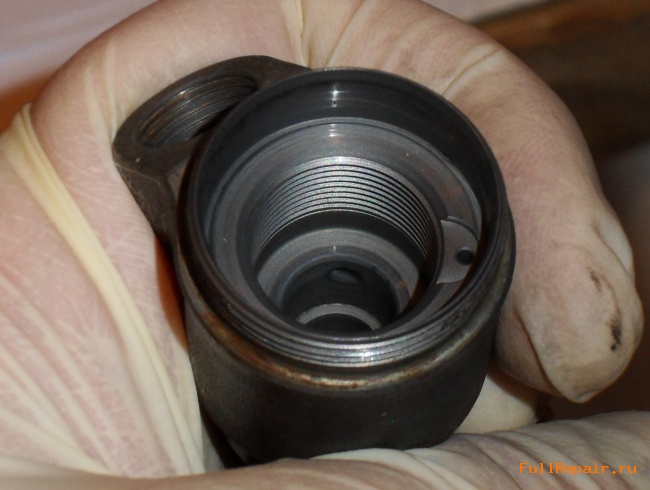 We remember the location of symbol of control chamber end opposite to the input orifice. We see on injector's package and we locate it so that input fuel hole would be from the top precisely. After that we just put out pivot with chamber in right orientation remembering mentioned above symbol.