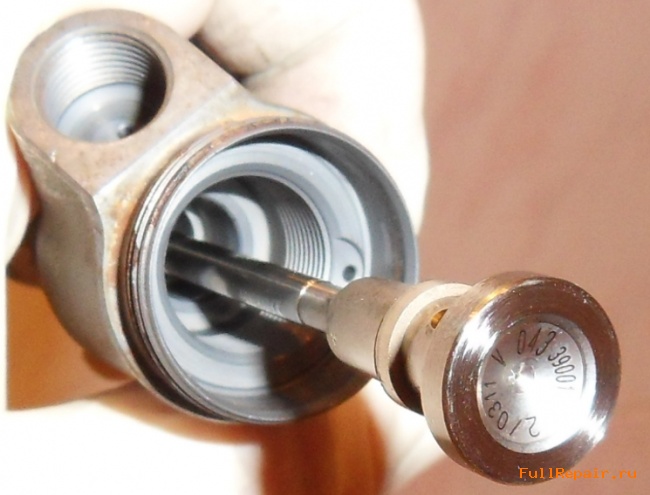 Next we put together the details of atomizer, insert needle, put up small details, twist mouse pieces but not tighten its.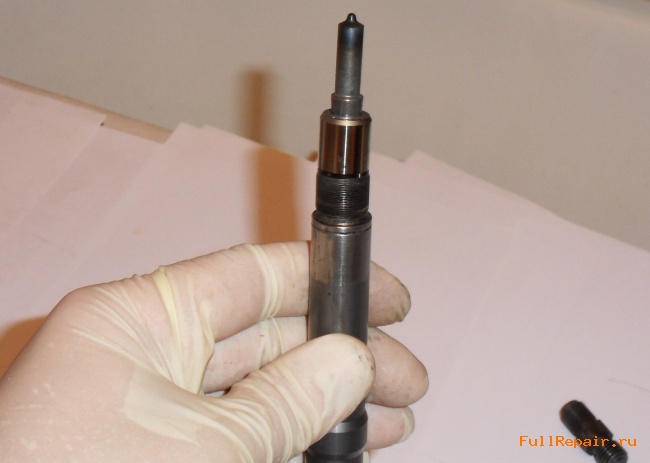 Further we put up valve accurately. The ball and its holder (ball's saddle) in shape of cylinder with cave are magnetic and these ones draw together to the pivot with cap. The ball and its holder must adjoin to the pivot (however these ones draw weakly therefore be careful). This construction I put together out of valve and after assembly I insert all construction in valve and tighten with screw. The screw is not symmetric therefore don't mix up the side. Now you can tighten all: the screw and the injector's mouth piece.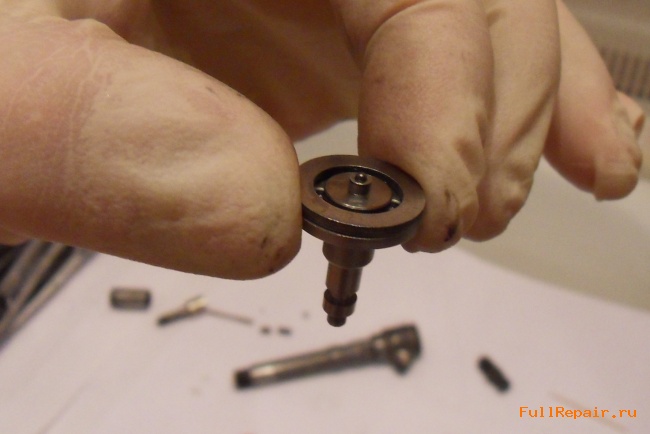 Further it is necessary to bolt on fuel supply fitting and to tighten it.
Let's assembly the mechanism with tri-lobe device, put on spring on it, mount and fix with the available half-ring.
After this we insert plate and the ring into solenoid and twist it, not forgotten to lay plate-laying.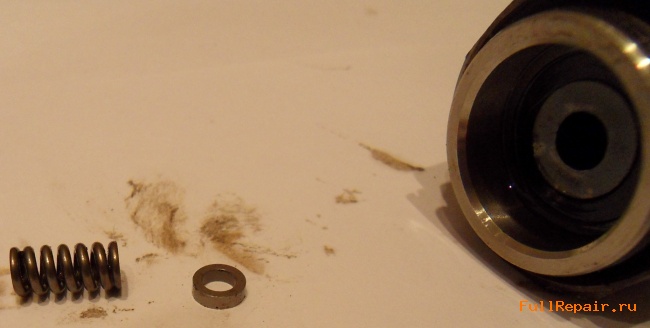 The injector cleaned perfectly and put up together and it ready to run 100K km again. Other injectors must be cleaned with the same method. This helped me and with the cleaned injectors my car started well and drove 65K km almost.
However nothing last forever and therefore some details can fail, for example needle can stick in atomizer and I do not know how to get the needle without harm for it. The valve's saddle can frayed and pair valve-multiplier can end working. And for this case you have an opportunity to order spare parts, please see their codes:
Multiplier with control chamber (valve's saddle): F00VC01044.
Gaskets package (Its put on package of control chamber, i.e. on valve's saddle): F00VC99002.
Ball valve's saddle (ball guide-way, cylinder with cave): F00VC21002; F00VC21001.
Valve's ball: F00VC05001.
Injector's nozzle: 0433171755.
There are lot of variants of codes and I personally didn't booked for the time being. I can't confirm that this is ideal substitution (I select using the codes fof Bosch injector). Perhaps there are different codes and details differs not a lot and these ones are interchanged or don't have any variations at all. Sometimes manufacturer substitute old details for the new ones identically.
I found information regarding balls:
F00VC05001 — steel, diameter: 1,34 mm, but I booked this one two times with this code as far as balls arrived with two types: with diameter 1,5 mm, and another with diameter — 1,34 mm.
F00VC05002 — ceramic, diameter: 1,34 mm (personally I didn't book).
F00VC05003 — some ball.
F00VC05006 — steel, diameter: 1,5 mm, ball from high pressure fuel pump. I booked but ceramic arrived 1,45 mm.
F00VC05008 — ball from high pressure fuel pump. I booked but ceramic arrived, 1,30 mm.
F00VC05009 — ball from high pressure fuel pump. I booked but ceramic arrived, 1,45 mm.
F00VC05010 — some valve's ball.
F00VC05027 — some valve's ball.
Ladies and Gentlemen who dismantle the injectors,let me ask you to measure ball and to write it dimension and your injector's code in commentaries. I will find balls knowing their codes and therefore we will know which ball is designated for which injector.
There is list of cars where this injector can be applied (33800-279002X, 33800-279002Y, 33800-279002Z):
HYUNDAI ACCENT [BA]
HYUNDAI GETZ [BJ]
HYUNDAI MATRIX [BE]
HYUNDAI SANTA FE [BB]
HYUNDAI TRAJET [EC]
HYUNDAI TUCSON [BH]
KIA CERATO [CD]
KIA SPORTAGE [FQ]
The codes of detail of injector:
33800-279002X
33800-279002Y
33800-279002Z
The cars where the same engine (1.5 CRDI D3EA, 3 cylinders):
HYUNDAI Accent
HYUNDAI Getz
HYUNDAI Matrix
The cars where the similar engine (2.0 CRDI D4EA, 4 cylinders):
HYUNDAI SANTA FE
HYUNDAI TRAJET
HYUNDAI TUCSON
KIA CERATO
KIA SPORTAGE
The analogic injector of «33800-27900» is from Bosch: 0 445 110 290; 0 445 110 126.
One of visitors-Alexander, and he sent report about injector Bosch 0 445 110 250 tests on stand).


All photos for the article